AHR Slurry Pump Rubber Parts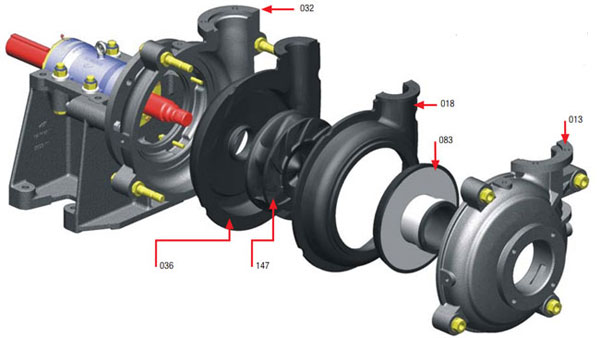 >>>> Pump Rubber Parts For Sale
                                   >>>> Slurry Pumps Price List, Click Here
Main Part Number At The Drawing
032: Frame Plate
036: Frame Plate Liner
147: Impeller
018: Cover Plate Liner
083: Throatbush
013: Cover Plate
                                                             Selection Chart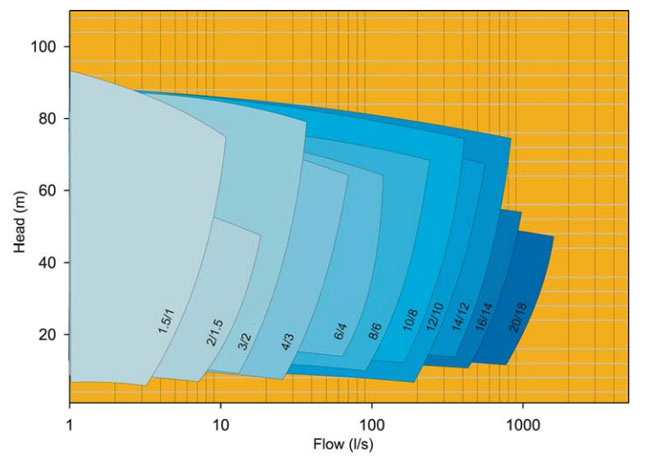 s
1. Horizontal, cantilevered, centrifugal, single stage rubber lined slurry pump.
2. Long bearing life: The bearing assembly is with large diameter shaft and short overhang.
3. Wear resistant and anti-abrasion wet parts: R08, R26, R55, S02, S12, S21, S31, S42 rubber materials etc.
4. Easily replaceable liners: Liners are bolted to the casing.
5. Easy adjustment of impeller: An impeller adjustment mechanism is provided below the bearing housing.
6. Discharge direction can be positioned at intervals of 45 degrees.
7. Simple maintenance throat-bush: the mating face of the throat bush is tapered, so the wear is reduced and removal is simple.
10. Sealing type: packing seal, expeller sealing and mechanical seal.
11. Widely application: designed for handling abrasive, high density slurries in the metallurgical, mining, coal, power, building material and other industrial departments.
Rubber lined slurry pumps can be used in many applications, such as Pipeline transport, High velocity hydraulic transport, Mineral processing, Coal prep, Cyclone feeds, Aggregate processing, Fine primary mill grinding, Chemical slurry service, Tailings, secondary grinding, Industrial processing, Pulp and paper, Food processing, Cracking operations, Ash handling. It is widely used in mining,plant and chemical factory.  Walker slurry pumps price list, please contact us.