Solids Pump Metal Parts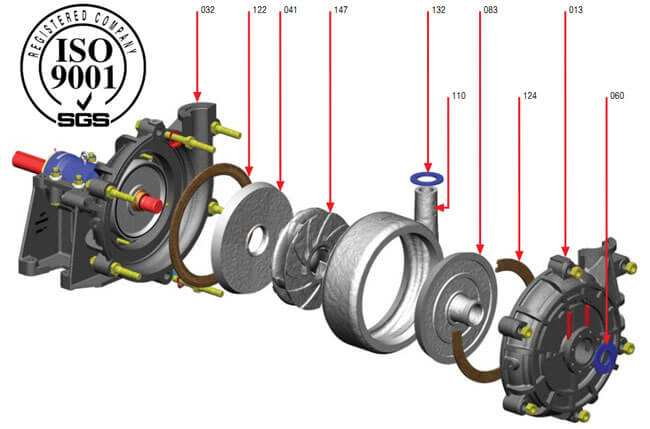 Main Part Number At The Drawing 
032: Frame Plate
060: Intake Joint
132: Discharge Joint
083: Throatbush
110: Volute Liner
147: Impeller

122: Stuffing Box Seal
036: Frame Plate Liner
013: Cover Plate
018: Cover Plate Liner
124: Volute Cover Seal
041: Frame Plate Liner Inser
                                         >>>>  Metal Pump Parts For Sale
                                                        Selection Chart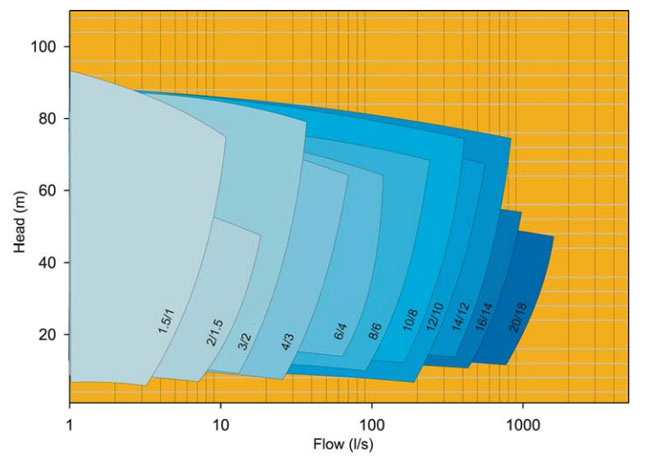 Note: Approximate performance for clear water,to be used for primary selection only.solids pump
Power End
1. Solids pump labyrinth bearing isolators to protect internal components during wash-down cycles.
2. Clearances can be easily adjusted to maintain efficiency while optimizing performance and extending wear life.
3. Over-sized, self-aligning spherical roller bearings for trouble free operation.
4. Heavy duty bearing assembly, 50,000 hour minimum L10 bearing life, Distortion free bearing clamp system ensures maximum bearing life and prevents premature fatigue.
Wet End
1. Maintenance friendly split casing for elastomer liners (lined wet end).
2. Static vanes reduce wear and prevent erosion.
3. Tangential discharge improves efficiency and reduces wear.
4. Optimized hydraulics for high efficiency and low wear.
5. Dowel pins for easy and accurate split case alignment (lined wet end).
6. Ribs designed for optimized strength/weight.
7. Static suction vanes extend wear life (metal wet end).
8. Patented flange system for ease of maintenance (metal wet end).
9. Adjustable suction cover on sizes 200 and larger to optimize efficiency and minimize wear.
Sealing arrangements:
1. Packed gland with expeller configuration (other sealing options available).
2. Split stuffing box for simplified installation and adjustments.
3. Mating shaft sleeves with engineered materials for extended life.2.S
The 14/12  AH Slurry Pumps(solids pump) are widely used to transport high-hardness, strong-corrosion and high-concentration liquids that contain suspended solid particles, such as finished ores, refuse ores, ashes, cinders, cements, mud, mineral stones, lime and etc. in the industries of metallurgy, mining, coal, power, building material and etc. The temperature of the pumped solid-liquid mixture should be ≤80℃, and the weight concentration should be ≤60