AH Slurry Pump Metal Parts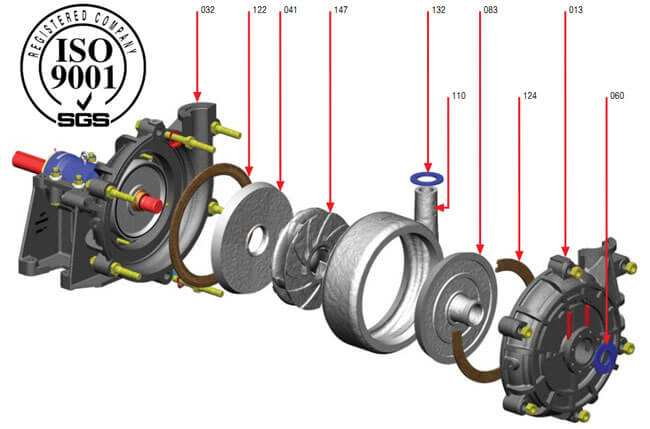 Main Part Number At The Drawing 
032: Frame Plate
060: Intake Joint
132: Discharge Joint
083: Throatbush
110: Volute Liner
147: Impeller

122: Stuffing Box Seal
036: Frame Plate Liner
013: Cover Plate
018: Cover Plate Liner
124: Volute Cover Seal
041: Frame Plate Liner Inser
                                         >>>>  Metal Pump Parts For Sale
                                                        Slurry Pump Selection Chart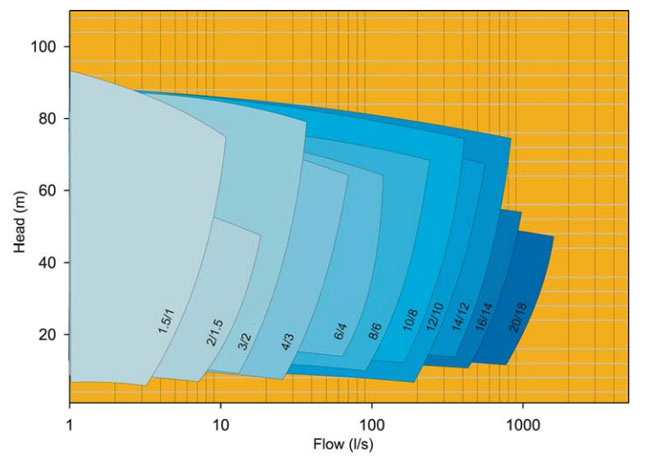 Note: Approximate performance for clear water,to be used for primary selection only.
1. Available with only one impeller, the heavy duty slurry pump is a horizontal cantilever unit that allows slurry to enter the pumping chamber from only one suction side.
2. Another key feature of this horizontal pump is the double-casing design. Parts in contact with the slurry are replaceable and made of high-chrome for maximum resistance to wear and abrasion. Rubber and polyurethane are selected to make liners and impellers, ensuring excellent serviceability, longevity and durability under all conditions.
3. This series of heavy duty slurry pump offers a variety of impeller options to meet a broad range of operating conditions and customer specific requirements.
4. The rotating shaft is sealed by way of packing seal. The expeller dynamic seal and other mechanical seal arrangements are among options, too.
5. A number of pumps can be connected in series for use.
6. The discharge outlet has 8 positions at 45 degree intervals that can be selected to meet the installation and application requirements
Feeding slurry to hydrocyclones or pressure filters, froth floatation, minerals recycling, mine dewatering, desulfurization in power plant, coal washing, metallurgy, pulp and paper manufacture, dredging, and chemical engineering.