AH Structural Diagram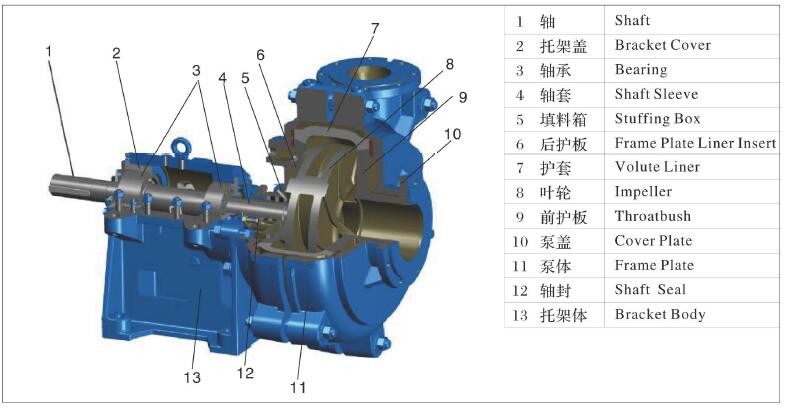 >>>>  Metal Pump Parts For Sale
                                                          Selection Chart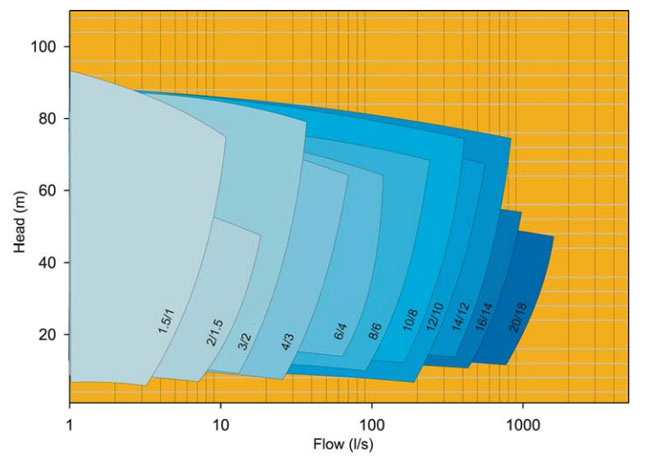 Note:Approximate performance for clear water,to be used for primary selection only.
1. Resistant parts: High chrome iron, Synthetic and natural rubber, Polyurethane, Corrosion resistant alloys
2. The clearance between the impeller and guard plate can be adjusted by an external impeller regulating mechanism.
3. The shaft seal arrangements are completely interchangeable with different sized pumps, gland seal, expeller seal, and mechanical seal.
4. Bearing assembly – The Large diameter shaft with a short gap controls the deflection well and maximizes bearing life with the lowest maintenance costs. Cartridge type construction contributes to ease of replacement, only four through bolts are required to unscrewed without removal of pump.
5. The replaceable and interchangeable wet end parts are easy to replace, minimize downtime.
6. Liners-hard metal or rubber liners are bolted, easy to replace, and completely interchangeable with pressure molded elastomer, available for different work conditions.
7. The Ductile iron fully lined casing provides durability, strength, safety, and long service life recommended while the grey iron liner is the economic solution that could meet most customers required especially when you don't need the pumps to work at 24×7.
8. Grease or oil lubrication bearing assembly options offer wide applicability.
2/1.5B AH horizontal Slurry Pump is capable of dealing with heavy-duty solid-liquid transport tasks, such as high abrasion slurry,  tailings, sand & gravel sediment liquid, paper pulp, high-temperature liquid, acid, rust and corrosive liquid, and other material containing solid particles.
Mining & Metallurgy, Sand & Gravel processing plant: Slurry transportation, flotation process, tailing management, crusher machine washing, hydraulic classification, etc
Irrigation systems and dredging: water transportation, silt removal in dams and river bed, etc.
More about slurry systems, please contact us.