AHR Horizontal Slurry Pump Rubber Parts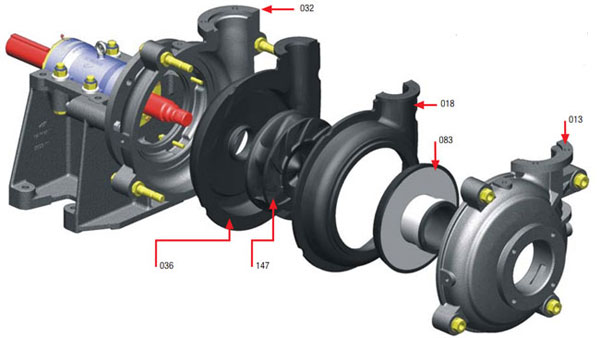 >>>> Pump Rubber Parts For Sale
Main Part Number At The Drawing
032: Frame Plate
036: Frame Plate Liner
147: Impeller
018: Cover Plate Liner
083: Throatbush
013: Cover Plate
                                                             Selection Chart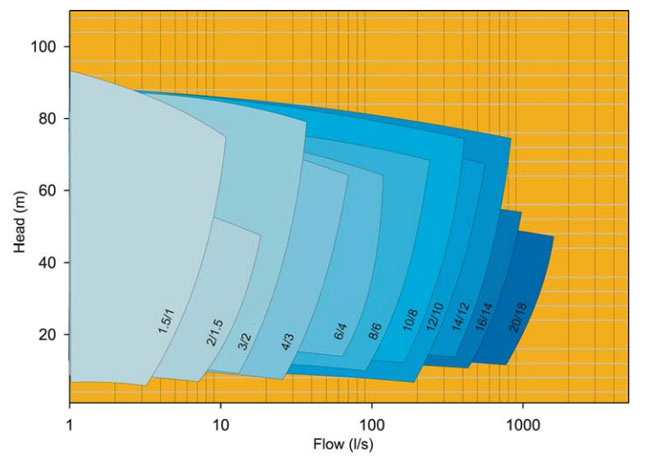 s
1. Double casings design centrifugal rubber lined slurry pump, wide passage for solids
2. Bearing assembly & frame: Both standard & high capacity types available.
3. A large diameter shaft with a short overhang minimizes deflection and vibration.
4. Heavy duty roller bearing is housed in a removable bearing cartridge.
5. Rubber slurry pump body is fastened with the frame by minimum bolts.
6. Horizontal Slurry pump impeller adjustment is provided in a convenient position below the bearing assembly.
7. Slurry pump Impeller & liner material: natural rubber etc
8. High efficiency impeller available: up to 86.5% for certain type.
9. Interchangeable wet parts material: High chrome alloy metal: PH: 5-12; natural rubber: PH: 4-12.
10. Shaft seal: Packing seal, centrifugal seal, mechanical seal.
11. Discharge branch: 8 positions in each 45°.
12. Driving type: V-belt, flexible coupling, gearbox, hydraulic coupler etc.
Rubber lined slurry pumps are widely used for Mill discharge, Ni acid slurry, Coarse sand, Coarse tailings, Phosphate matrix, Minerals concentrate, Heavy media, Sugar beet, Dredging, Bottom/Fly ash, Lime grinding, Oil sands, Mineral sands, Fine tailings, Slag granulation, Phosphoric acid, Coal, Flotation, Process chemical, Phosphoric acid etc.