AHR Slurry Pump Rubber Parts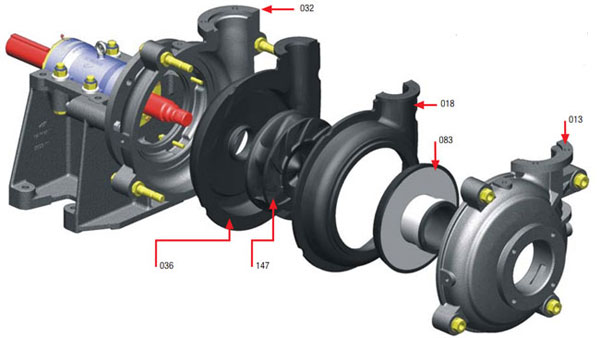 >>>> Pump Rubber Parts For Sale
                                   >>>> Slurry Pumps Suppliers
Main Part Number At The Drawing
032: Frame Plate
036: Frame Plate Liner
147: Impeller
018: Cover Plate Liner
083: Throatbush
013: Cover Plate
                                                             Selection Chart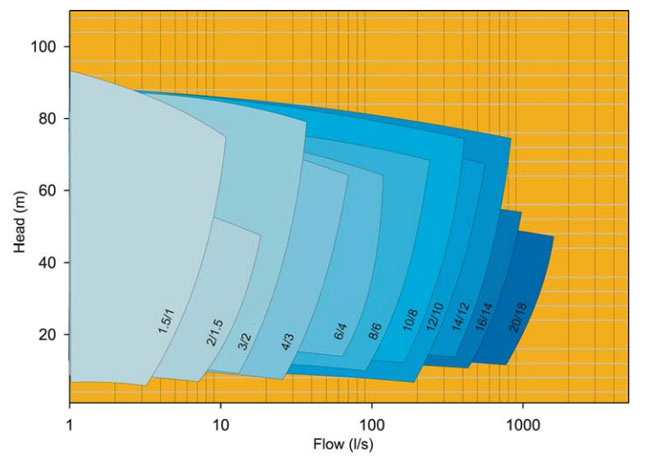 s
1. Optimized structure is suitable for heavy-duty tasks, ensuring serviceability and longevity.
2. The double-casing design of our heavy duty rubber lined slurry pump allows for axial split. Made of ductile iron, the slurry pump casing is able to withstand major pressure produced within the pumping chamber. Rubber liners are made of wear resistant rubber materials, and do not stick to the outer casing for ease of maintenance and replacement.
3. The slurry pump body is fixed to the pump base or mounting base by several bolts. Users can adjust the clearance between impeller and suction liner easily from underneath the bearing support, or bearing pedestal.
4. Packing gland seal, mechanical seal and expeller seal are available to prevent slurry leakage during pumping operation.
Mining & Mineral Processing
The slow running speeds of the Tobee heavy duty rubber lined slurry pump, together with the comprehensive choice of abrasion resistant alloys and elastomers, provide unrivalled performance and service life for all abrasive mining and minerals processing applications.
Chemical Process
The interchangeability of alloy and elastomer components in the same pump casing, together with a wide range of mechanical seals, make the Tobee heavy duty rubber lined slurry pump the most flexible choice for the chemical plant environment.
Sand & Gravel
Designed for easy and simple strip down and re-assembly, the Tobee heavy duty rubber lined slurry pump minimises downtime, making it the ideal choice where installed stand by pumps are not available.
Sugar Processing
The premium reliability and service life of the Tobee heavy duty rubber lined slurry pump is specified by many sugar plant engineers worldwide where uninterrupted pump operation during the sugar campaign is a critical requirement.
Flue Gas Desulphurisation
The new generation of specially formulated abrasion and corrosion resistant alloys, together with the very latest elastomer technology, positions Tobee Pumps firmly as a major supplier of pumps to the FGD industry.
Oil & Gas Exploration
Over a number of years we have developed the proven design of the Tobee heavy duty rubber lined slurry pump ranges to suit the specific demands of offshore applications. We can now offer the most reliable top side solution to erosive wear.
Industrial Applications
Wherever abrasive solids are causing premature failure of pumps, the Tobee heavy duty rubber lined slurry pump range has the right combination of performance, wear life and reliability to bring the customer the lowest cost of ownership.
Slurry Pumps Suppliers —-  Walkerpumps