AH Slurry Pump Metal Parts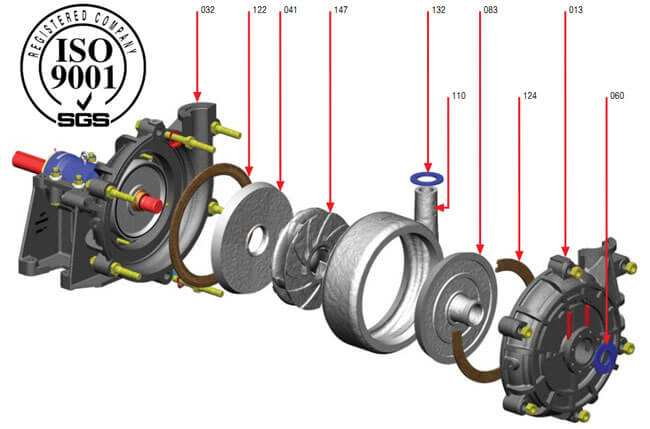 Main Part Number At The Drawing 
032: Frame Plate
060: Intake Joint
132: Discharge Joint
083: Throatbush
110: Volute Liner
147: Impeller

122: Stuffing Box Seal
036: Frame Plate Liner
013: Cover Plate
018: Cover Plate Liner
124: Volute Cover Seal
041: Frame Plate Liner Inser
                                         >>>>  Metal Pump Parts For Sale
                                                        Selection Chart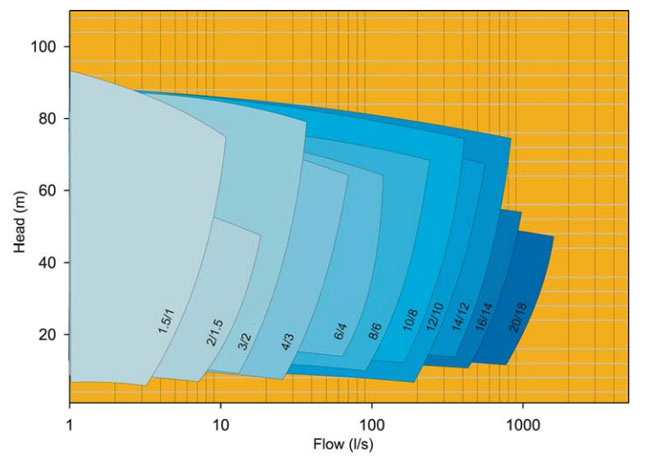 Note: Approximate performance for clear water,to be used for primary selection only.:e
1. Cylindrical structure of bearing assembly: convenient to adjust the space between impeller and front liner and can be removed completely.
2. Interchangeable anti-abrasive wet parts made of high-chrome alloys.
3. The discharge branch can be oriented to any eight positions at the interval of 45 degrees.
4. Various drive types: DC (direct connection), V-belt drive, gear box reducer, hydraulic couplings, VFD, SCR control etc.
5. The shaft seal uses the packing seal, expeller seal and mechanical seal.
1. Iron Ore Dressing Plant
2. Copper Concentration Plant
3. Gold Mine Concentration Plant
4. Molybdenum Concentration Plant
5. Potash Fertilizer Plant
6. Other Mineral Processing Plants
7. Alumina Industry
8. Coal Washery
9. Power Plant
10. Sand Excavation
11. Building Material Industry
12. Chemical Industry
13. Other industries
About slurry pump calculations, please contact us, our engineers will help you.