AH Slurry Pump Metal Parts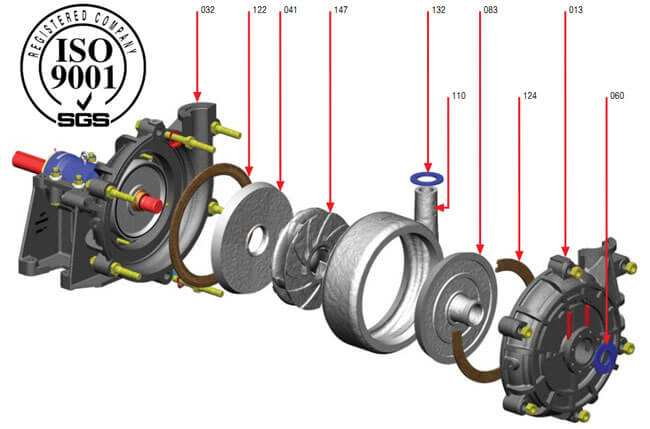 Main Part Number At The Drawing 
032: Frame Plate
060: Intake Joint
132: Discharge Joint
083: Throatbush
110: Volute Liner
147: Impeller

122: Stuffing Box Seal
036: Frame Plate Liner
013: Cover Plate
018: Cover Plate Liner
124: Volute Cover Seal
041: Frame Plate Liner Inser
                                         >>>>  Metal Pump Parts For Sale
                                                        Selection Chart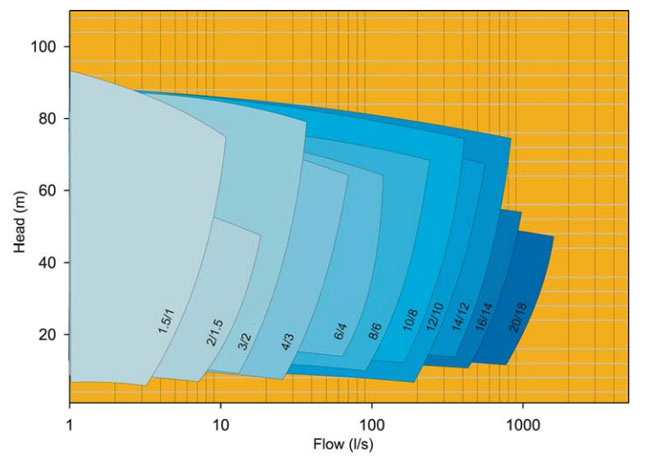 Note: Approximate performance for clear water,to be used for primary selection only.
1. Bearing assembly – a large diameter shaft with short overhang minimizes deflection and contributes to long bearing life. Only four through bolts are required to hold the cartridge type housing in the frame.
2. Volute Liners – easily replaceable liners are bolted, not glued, to the casing for positive attachment and east of maintenance. Hard metal liners are completely interchangeable with pressure moulded elastomer.
3. Elastomer seal rings back all liner joints.
4. Pump casing – Casing halves of cast or ductile iron with external reinforcing ribs provide high operating pressure capabilities and an extra measure of safety.
5. Impeller–front and rear shrouds have pump out vanes that reduce recirculation and seal contamination. Hard metal and moulded elastomer impellers are completely interchangeable.
6. Cast in impeller threads require no inserts or nuts. High efficiency and high head designs are also available.
7. Throatbush – wear is reduced and maintenance simplified by the use of tapered mating faces to allow positive accurate alignment during assembly and simple removal.
8. One-piece frame – a very robust one-piece frame cradles the cartridge type bearing and shaft assembly.
9. An external impeller adjustment mechanism is provided below the bearing housing for easy adjustment of impeller clearance.
Walker AH slurry pump can be used in various of applications, like Minerals processing, Pipeline transport, High velocity hydraulic transport, Coal prep, Cyclone feeds, Aggregate processing, Fine primary mill grinding, Chemical slurry service, Tailings, secondary grinding, Industrial processing, Pulp and paper, Food processing, Cracking operations, Ash handling etc.
Accroding to different working conditions, AH series slurry pumps can be use as minerals process pump, Booster sand pump, Gypsum slurry pump, Classifying Cyclone Feed Pump, Dewatering Screen Pump, Thickner Area Sump Pump, Tailings Pump, Metboom Pump, Feedprep Pump, Scavenger Feed Pump, DMC Feed Pump, Thickener U/F Pump, Re-Cleaner Pump, Ball mill discharge Pump, Ruffer Feed Pump, Fines Area Sump Pump, Transfer to feedprep Pump, Metboom Return Pump, Slime Pond Sump Pump, Thickner Underflow Pump, Thickner Tailings Pump, Thickner Underflow Pump, Magnetite Sump Slurry Pump, Rinse Pump, Dilute Pump, Re-Cleaner Pump, Rougher Feed Pump, Tailings booster Pump, Dilute Medium Slurry Pump, Mill slurry Pump, Mill feed water Pump, Disc filter basin flushing Pump, Correct Medium Slurry Pump, Mixing tank slurry Pump, Centrifuge Effl. Transfer Slurry Pump, Fines Refuse Effl. Transfer Pump, Gas cleaning slurry Pump, Windbox slurry Pump, Pellet hand scrubber slurry pump, Process recycle Pump, Scrubber slurry Pump, Prop pellets undersize Pump, Screen feeder Pump, Furn disch scrubber slurry Pump, BPF Filtrate Effl. Pump, Cosmetic recycle water Pump, Backwash Pump, Venturi scrubber slurry pump, Clarifier underflow pump, Pipeline transfer pump etc.