Construction of D type multistage centrifugal pump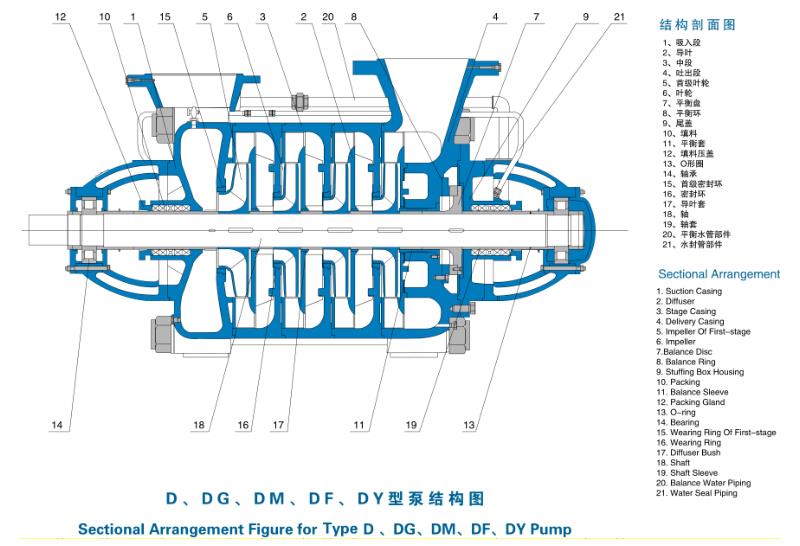 Multi-stage Centrifugal Pump is designed with two or more impellers. The impellers are mounted on the same shaft. The pumped fluid is discharged from an impeller and volute and immediately enters the next impeller and volute. Multi-stage centrifugal pumps use multiple impellers and volutes in series to achieve pressure. If high pressures at the outlet are required, impellers can be connected in series whereas, for high flow output, the pumps are typically connected parallel.
The pump is a horizontal multistage centrifugal pump suitable for conveying clean water (containing less than 1% of impurities, particle size less than 0.1 mm) and other liquids with physicochemical properties similar to clean water. D type pump conveying medium temperature is less than 80 °C, suitable for mine drainage, oilfield water injection, factory and city supply, drainage and other occasions. Oilfield water injection pumps are made of different materials depending on the corrosive nature of the medium. The DG pump has a medium temperature of less than 105 ° C and is suitable for various boiler feed waters.
Performance characteristics of our products
◆ Stable Operation.
The impeller with an absolute concentric degree featuring excellent static and dynamic equilibrium ensures smooth operation with no vibration.
◆ Completely Watertight.
Sealed with different carbide, it has no leakage during transmission between different models.
◆ Low Noise.
With two low-noise bearings, this pump operates steadily with little noise simply made by the motor.
◆ Low Failure Rate.
The structure is simple and reasonable. The quality of the key part is excellent as worldwide first-class. It is good enough to operate with a low failure rate.
◆ Easy Maintenance.
It is very convenient for the replacement of seals and bearings.
The multistage centrifugal pump series are designed to work with clean water in domestic applications, irrigation, industry, etc. the pump body is made of stainless steel, so that they are of beautiful design. At the same time, they have the advantage of low noise, easy operation and reliable performance.