Single Stage Double Suction Pumps Construction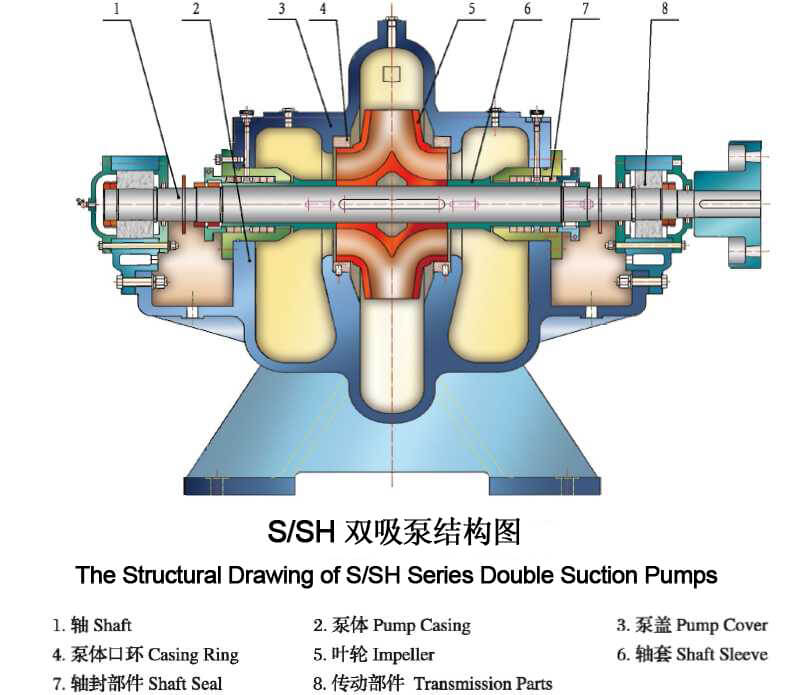 Performance Characteristics
◆ Replaceable wear-resistant metal lining, impeller, sheath, guard plate and over current parts.
1. Long service life, reliable performance and easy operation.
2. The frame plates liner and impeller for type AH, M pumps have replaceable wear-resistant metal liners or rubber liners,The frame plate liner and impeller for HH single stage double suction pumps are adoptable of wear-resistant metal only.
3. The shaft seals Type: Gland seal , Expeller Seal , mechanical Seal.
4. Discharge branch can be positioned at intervals of 45 degrees.
Walker Water Pump Product Introduction:
Two stage centrifugal pump is an important type of centrifugal pump. This type of pump impeller actually consists of two back-to-back impellers, from which the water flow into a volute.
Single stage double suction pumps works just like two same diameter end-suction pumps work at the same time, so its flow quantity can be doubled by using the same outer diameter impeller.
The horizontal split structure of pump shell makes easy inspection and maintenance possible. Meanwhile, the entry end and exit end of double suction pump are in the same direction, being perpendicular to the pump shaft, which is helpful for the layout and installation of pumps and water pipes; double suction pump is characterized by symmetrical impeller structure and non axial force, so it can run more smoothly and can satisfy the operating requirement of mass flow and high lift.
Single stage double suction pumps are widely used in city water supply and drainage, urban water supply; water supply and drainage of central heating system; iron and steel metallurgy, petrochemical refineries, paper mills, oil fields, power plant, airport construction, chemical plants, textile mills, sugar refinery, chemical plant, power plant water supply and drainage, the factory, mine fire water supply system, air conditioning system of water supply, farmland irrigation and drainage; and all other kinds of water engineering.