Single Suction Pump Construction

Main Pump Parts
1 – Pump casing 2 – Pump cover 3 – Impeller 4 – Shaft
5 – Sealing ring  6 – Impeller nut 7 – Lock washer  8 – Muff
9 – Packing gland  10– Packing ring   11 – Paking  12 – Pendant bearing assembly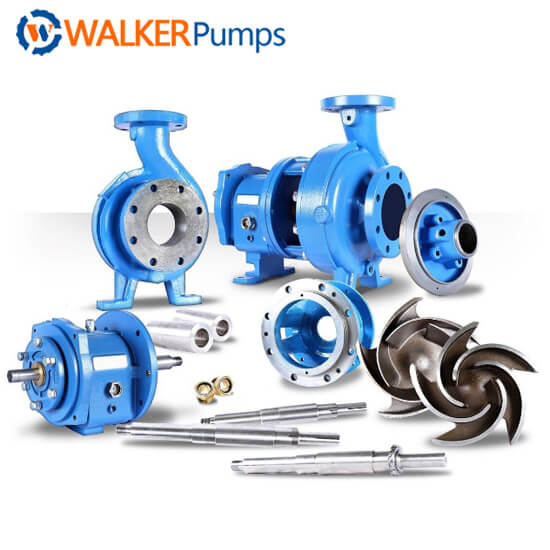 >>>Matel Pump Parts For Sale

WATER PUMP SELECTION CHART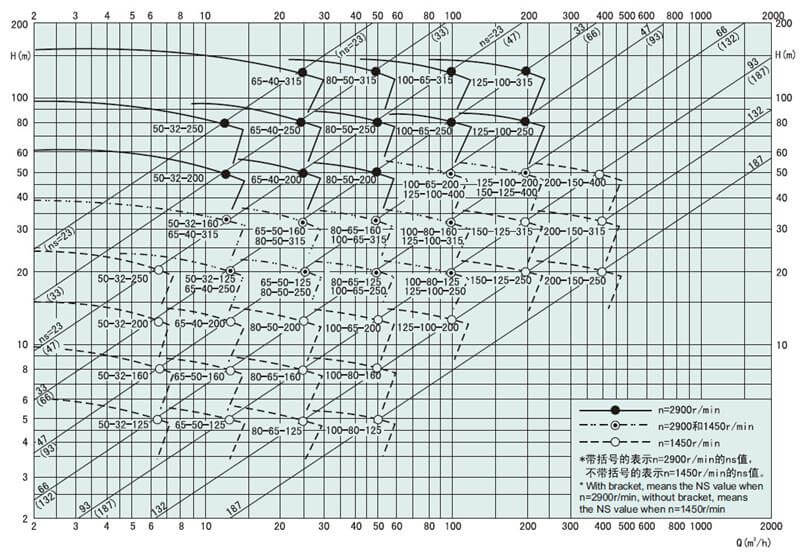 Performance Characteristics
1. Simple in structure,easy maintenance and reliable performance;
2. Small size and light weight; Anti-cavitation performance and low power consumption;
3. Total 140 kinds of specifications, but only in four axis, the same specification of the shaft, bearings, seals, to exchange; full range of pump suspension is only four;
4. Pump through flexible coupling and motor connection, from the direction of the motor, pump is clockwise.
5. IS single suction pump, open the door for the structure without disassembly line maintenance.
Walker Water Pump Product Introduction:
① IS \ IR type single-stage single-suction centrifugal pump according to international standard ISO2858 specified performance and dimension design, mainly IS composed of pump body, pump cover, impeller, shaft, sealing ring, shaft sleeve and suspension bearing see, etc.
② IS \ IR type single-stage single-suction centrifugal pump pump body and pump cover parts, from impeller back place subdivision, what say normally namely after the doors open structure. Its advantage is easy to check and maintain, repair without acting pump body, suction line, discharge line and motor, need to remove the extended coupling among connection parts, can exit rotor parts maintenance.
③ Pump shell (i.e., pump body and pump cover) constitute a pump studio. Impeller, shaft and rolling bearing for pump rotor. Suspension bearing components supporting the pump rotor part, rolling bearing by pump radial force and axial force.
④ In order to balance the axial force of pump, most of the pump impeller, before and after are equipped with sealing ring, and in the impeller HouGaiBan the balance hole, because some pump axial force is not big, impeller back did not set sealing ring and balance hole.
⑤ Pump axial sealing ring is by the packing gland, packing ring and packing, etc, in order to prevent the air intake or a large number of water leakage. Pump impeller if there is a balance, is equipped with soft packing cavity and impeller inlet are interlinked, such as impeller entrance liquid in the vacuum state, then easily along the shaft sleeve surface intake, so in the packing chamber are equipped with packing ring through the pump cover holes, will pump indoor pressure water lead to packing ring to seal. Pump impeller if not balance hole, because impeller back liquid pressure is greater than atmospheric pressure, therefore does not exist gas leakage problem, so don't pack packing ring.
⑥ To avoid axis wear, in shaft through the packing chamber with shaft sleeve parts of the protection. Bush and between shaft must have type O ring, in order to prevent along with surface intake or leakage.
⑦ Pump drive way is through the extended elastic coupling and motor coupling, pump rotation direction, from driving end see, for clockwise.
IS single suction pump adopts international standard ISO2858 design. It is a new generation of BA type water pump. It is suitable for industrial and urban water supply and drainage, and can also be used for agricultural irrigation and drainage. For the transport of clean water or other liquids of physical and chemical properties of Leys water, the temperature does not exceed 80 °C.
ISR type is a series of hot water pumps designed according to the performance and size specified by international standard ISO2858. It is suitable for hot water boiler water supply, hot water circulation system, industrial and urban water supply, irrigation and drainage, but the temperature does not exceed 150 °C.