Materials: Bearing steel, Carbon steel, Stainless steel
Part Code: 009
Suitable Replaced Model: Walker AH(R), HH, L(R), G(H), SP(R), AF etc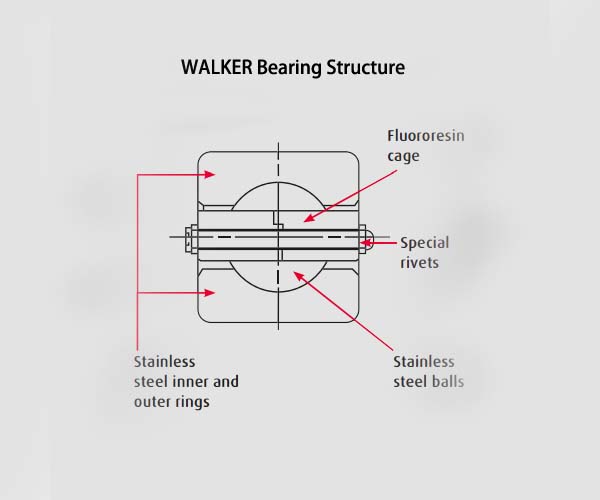 Bearing solutions & bearing arrangements for Pumps
In a Slurry Pump we have both radial and axial forces acting on the shaft and the bearings. Selection of bearings follows two schools of thought:
The first arrangement with a bearing at the wet end taking up radial forces only and a bearing at the drive end taking up both axial and radial forces.
The second arrangement using taper roller bearings (of standard, mass produced types) in both positions taking axial and radial loads.
In the slurry pump range both arrangements are used, varying with the pump range. In the vertical design where the cantilever is extremely long the first bearing arrangement is used. 
Features and applications of WALKER Slurry Pump Bearings
Prevents creeping
O-ring compression prevents creep.
No special machining of the housing is required
Bearings can be replaced since boundary
dimensions are identical to standard bearings.
Easy to assemble
Assembly is easy since bearings can be fi tted with a loose tolerance.
Reusable housing
Very little abrasion occurs on the bore surface of the housing, making reuse possible.
Slurry Pump Bearing is important part for bearing assembly of slurry pumps, Normally, The slurry pump will use 2~3 rolling bearings, It is lubricated by grease or thin oil, The bearing uses spheres or small cylinders that rotate or roll between a shaft and other mating parts to reduce friction and allow much tighter mechanical tolerances. Tobee offers ZWZ, SKF, TIMKEN, NSK, FAG, NTN brands for different options.
Pumps and Compressors are used in a wide range of process industries where requirements are for bearings offering long life in order to increase Mean Time Between Failures (MTBF). Downtime in production processes leads to huge costs and loss of roductivity. At the same time, Pump and Compressor manufacturers are looking for more compact machines leading to downsizing of bearings.
The combination of increased life time and downsizing places increasingly severe demands on ball and roller bearings; and satisfying those needs call for bearings of the highest quality and reliability.
For pump applications, depending on the pump type, bearings can run under axial loads, radial loads or combined loads; small to high speeds and different lubrication conditions. In any case, conditions are quite tough and the need for high MTBF is a challenge for bearings.

For compressor applications, bearings are subjected to high axial and radial loads. They play a key role as they have to ensure correct positioning of the rotors in the axial and radial direction. This is extremely important as good positioning of the rotors is directly linked to compressor effi ciency. Therefore, axial and radial defl ection of the bearings must be kept as small as possible.
As a global pump supplier and pump manufacturer, WALKER has the experience and understanding of helping its customers to manage their costs and improve production effi ciencies.
All the pump products developed by WALKER specifi cally for these applications, are featured in this page. In addition to our standard product range, our research and development centres located in China also will continue to develop the next generation of applicationdedicated products by understanding the unique requirements of our customers so that we can help them to continuously improve their machines.
Our team of application engineers, are in contact with OEM R&D teams helping them to find new bearing solutions at each stage of their projects. The experience accumulated after years of involvement in pump and compressor applications is the key for mutual success.
We invite you to have a look through our unique range of innovative problem solving products and if you have an interest in any of our products, please contact us at here.