4 Sets Self Priming Pump With Cummins Diesel Engine On Malaysia Site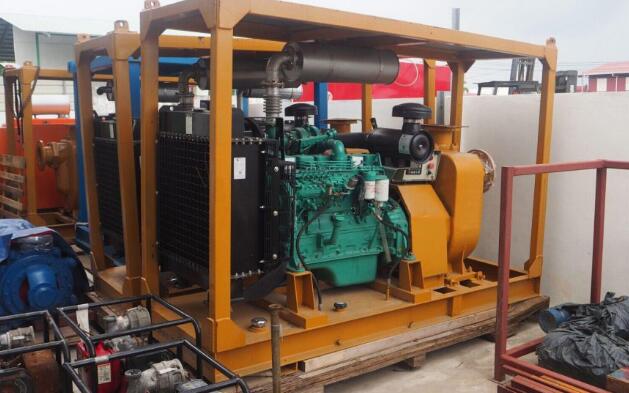 Self Priming Pump With Cummins Diesel Engine
This unit consists of a self-priming single-stage centrifugal pump, close-coupled to Cummins diesel engine. Its self-priming action is accomplished by the automatic recirculation of water during the priming cycle. There are no valves at the suction inlet. This type of pump operates best on total suction lift not exceeding 5m.
OPERATION
PRIMING
Remove the priming plug from the top of the pump case. Fill the pump case completely with water. Refit the plug.
NEVER OPERATE THE PUMP WITHOUT WATER IN THE PUMP CASE.
STARTING
Engage the motor switch, or start the engine in accordance with the manufacturer instructions. The pump will deliver water as soon as the self-priming action has displaced the air from the suction pipe.
MAINTENANCE
CLEANING THE PUMP
Run clear water through the pump if possible after pumping dirty water. Do this for two or three minutes before stopping the engine or motor.
LUBRICATION
SEAL
The purpose of the mechanical seal is to prevent air from entering the pump around the shaft while priming or pumping and to prevent water from leaking out around the shaft while pumping. The seal must be kept lubricated by the liquid being pumped and should NEVER BE ALLOWED TO RUN DRY.