AHR Slurry Pump Rubber Parts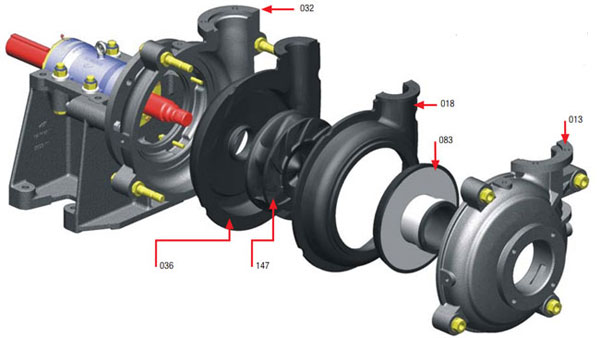 >>>> Pump Rubber Parts For Sale
Main Part Number At The Drawing
032: Frame Plate
036: Frame Plate Liner
147: Impeller
018: Cover Plate Liner
083: Throatbush
013: Cover Plate
                                                             Selection Chart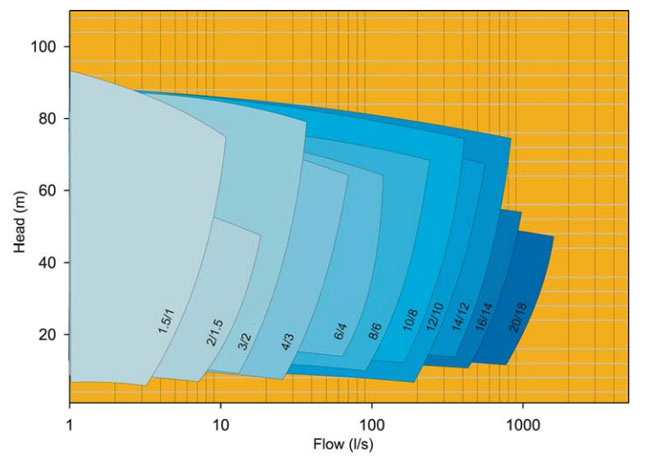 s
1. Bearing assembly – A large diameter shaft with short overhang minimizes deflection and contributes to long bearing life. Only four through bolts are required to hold the cartridge type housing in the frame.
2. Liners – Easily replaceable liners are bolted, not glued, to the casing for positive attachment and ease of maintenance. Hard metal liners are completely interchangeable with pressure molded rubber. Elastomer seal rings back all liner joints.
3. Casing – Casing halves of cast or ductile iron with external reinforcing ribs provide high operating pressure capabilities and an extra measure of safety.
4. Impeller – Front and rear shrouds have pump out vanes that reduce recirculation and seal contamination. Hard metal and molded rubber impellers are completely interchangeable. Cast in impeller threads require no inserts or nuts. High efficiency and high head designs are also available.
5. Throatbush – Wear is reduced and maintenance simplified by the use of tapered mating faces to allow positive accurate alignment during assembly and simple removal.
6. One-piece frame – A very robust one-piece frame cradles the cartridge type bearing and shaft assembly. An external impeller adjustment mechanism is provided below the bearing housing for easy adjustment of impeller clearance.
1. Iron Ore Dressing Plant
2. Copper Concentration Plant
3. Gold Mine Concentration Plant
4. Molybdenum Concentration Plant
5. Potash Fertilizer Plant
6. Other Mineral Processing Plants
7. Alumina Industry
8. Coal Washery
9. Power Plant
10. Sand Excavation
11. Building Material Industry
12. Chemical Industry
13. Other industries
About slurry viscosity calculation, please contact us, our engineers will help you.