Construction of dredging pump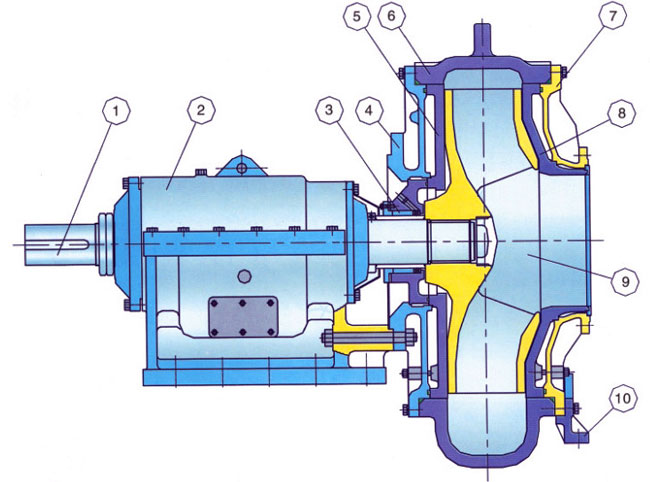 Main Part Number At The Drawing
1 – Shaft 2 – Frame 3 – Mechanical Seal Assembly 4 – Connecting Plate
5 – Rear Liner 6 – Pump Casing 7 – Cover Plate 8 – Front Liner
9 – Impeller 10– Support
>>>>Matel Pump Parts For Sale

DREDGE PUMP SELECTION CHART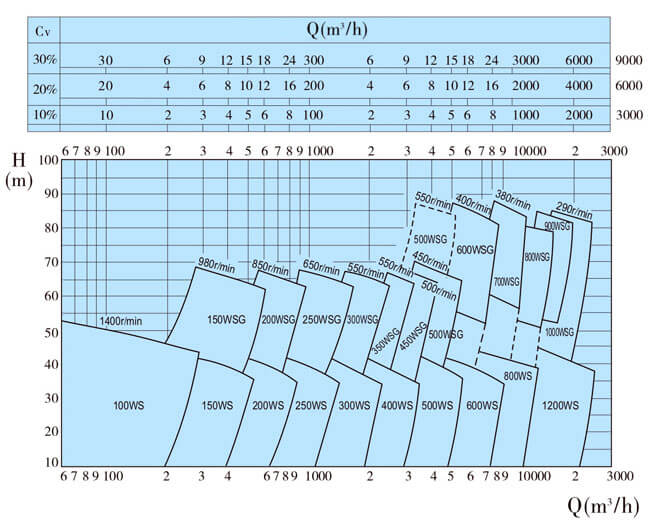 Note: Approximate Performance For Clear Water, To Be Used For Primary Selection Only.
√ Overall structure performance well in marine use
WN1000 dredge pump with a double pump casing, single stage single suction cantilever horizontal structure. According to the connection type with the gear box, there are two kinds of typical structure, one is with independent support, the other is combined with gear box. The lubrication of pump with support is grease lubrication or thin oil lubrication. The double casing design can make the pump body safe even when the liner is worn out. Easy to disassemble and maintenance: WN type dredging pump can be disassembled from front. This make the disassemble and maintenance easier.
√ Good performance of dredging
Good cavitation performance: WN type dredging pump have good cavitation performance which can ensure suction ability of pump. While it can achieve greater digging depth and higher suction concentration.
High flow capacity and wide applicability: WN type dredge pump impeller passage is very wide to continuous pumping gravel or high plastic clay and not happens jam. Good carrying ability of pump is guarantee for dredger performance.
Sharp Dropping performance curve: The flow and head curve falling steeply makes the mud pump having a stronger adaptability to the change of row spacing.
Achieving various blendings of pump performance: WN dredging pump can change the rotational speed and the diameter of the impeller, to achieve the different head of pump under the same flow.
√ Wear-resistant and long-life service wet parts
Wet parts of WN1000 dredging pump , such as impeller, volute liner, throat bushing and frame plate liner insert(wearable liner) adopt alloy cast iron material whose hardness is not less than 65HRC. It has not only impact on resistance but also high anti-abrasion performance.
The service life of each part is fully considered in the process of product design. The same replacement cycle reduces the maintenance and replacement costs.
Small hydraulic loss, high efficiency, low power consumption: Due to the advanced hydraulic model, the dredging pump has high efficiency level. The efficiency of WN dredging pump is higher about 2-3 percentage points than imported. Thus, in the same production, it can achieve lower fuel consumption.
√ A reliable seal and no leakage
WN1000WN dredge pump adopts shaft seal with L-shaped screw shell rubber seal device which has three L-shaped seal rings and one shaft sleeve with special thread.
WN series dredge pumps are widely used for Dredging, Cutter Suction Dredger, Sand and Gravel, Contract Dredging, Tailings, Booster Pump, Sand waste pump, Material transfer pump etc.
PREV:WN300 Dredge Booster Pump