Construction of dredging pump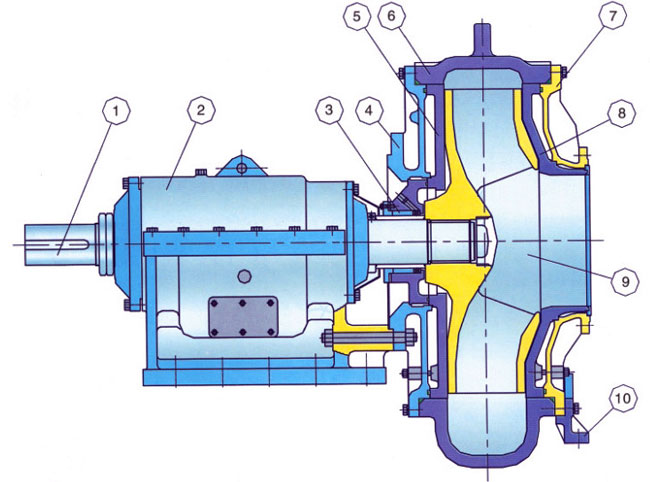 Main Part Number At The Drawing
1 – Shaft 2 – Frame 3 – Mechanical Seal Assembly 4 – Connecting Plate
5 – Rear Liner 6 – Pump Casing 7 – Cover Plate 8 – Front Liner
9 – Impeller 10– Support
>>>>Matel Pump Parts For Sale

DREDGE PUMP SELECTION CHART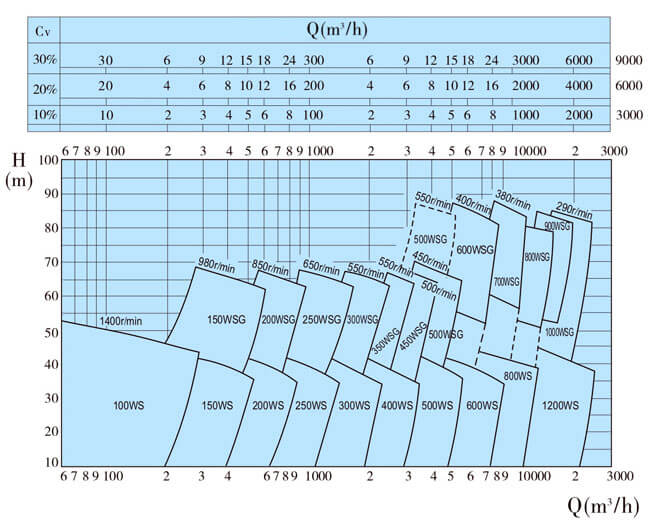 Note: Approximate Performance For Clear Water, To Be Used For Primary Selection Only.
√ WN300 Dredge Booster Pumps are the heart to the dredgers according to its capacity, working efficiency, transferring distance, suction depth. DOD Dredge Pump is designed with features of resistance to wear and malfunction, and general robust and reliable character, which are highly successful proven in the abrasive sand dredging industry.
√ Dredge Booster Pump offers a complete range of single-or double-walled, inboard or submerged, which are available for different uses. They can be used in the inboard or submerged by single and double-walled types.
√ Dredge Booster Pump has a robust and proven design, which has been successful in many dredgers in all circumstances, which takes the large capacity of fine sand, long-distance pipeline transportation, high suction depth, more working efficiency.
√ The high-efficiency dredge pump has been optimized to upgrade pump production and suction characteristics, and reduce wear, through unique design on the impeller, door, and liners. The higher efficiency to dredge pump, the lower costs to engine power, as well as the improvement to the cost-effectiveness of production and reduction to cost-cycle.
√ Booster is a new type of dredge pump with gearbox by using one base and shaft, by joint-design with "China Advance Gear Box Group"
√ Dredge Pump Spare Parts include impeller, casing, frame plate liner insert and throat bush are all used in material of high chrome alloy for high efficiency in working during the life of sand dredging.
√ Construction:
• preparation, pumping and recycling of bentonite
• transportation of mud, sand, and gravel
• pumping in depth and special foundations
• moving slurries in civil works
• emptying sludge for tunnel construction
√ Industry:
• pumping and recycling in cement mills and concrete factory
• sand and gravel winning in quarries
• pumping heavy/dirty water in mines(gold, diamonds, coal, copper…)
• extraction of very dense and abrasive liquids in mine (salt, uranium…)
• waste water treatment plant
• cleaning sand filters
• cleaning of sedimentation tanks
• pumping of scales, tar, oil residues, waste, tailings, lime in industry
√ Dredging:
• cleaning and dredging of marinas, harbors, dams, rivers, lakes, irrigation channels
• sand extraction
• marine salvage
• pipes and cables laying systems
• ship unloading
• high depth pumping works