Construction of G Gravel pump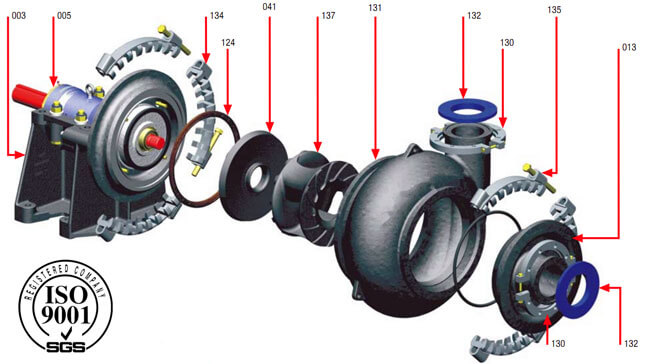 Main Part Number At The Drawing
003:Base 005:Bearing Assembly 132:Intake Joint, Discharge Joint
130:Discharge Flange, Intake Flange 013:Cover Plate 131:Bowl
137:Impeller 041:Back Liner 135:Door Clamp Ring
134: Adapter Plate Clamp Ring 124:Volute Cover Seal
>>>>Matel Pump Parts For Sale

GRAVEL PUMP SELECTION CHART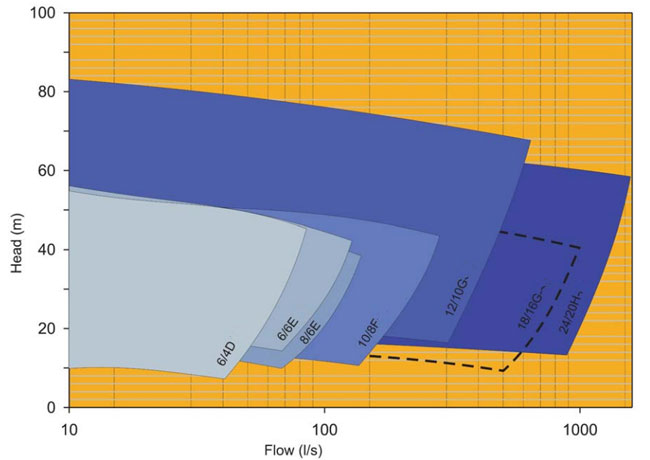 Note: Approximate Performance For Clear Water, To Be Used For Primary Selection Only.
8x6e-g gravel pump is suitable for handling large grain materials with high efficiency and low cost. The casing is designed with a large internal profile to reduce associated speeds and extend the life of the components. Designed to pump aggressive mud with a wide grain distribution, a series of G series gravel components and a variety of material combinations of dredgers and gravel pumps.
G/GH heavy-duty sand & gravel pump design typically caters for high head high volume duties, The Gravel pumps are best suited to Sand & Gravels, Dredging, Cutter Suction Dredger, Sand Excavation, Coal Washing, Tunnels, Power Plant, Mineral Processing Plants, Higher head cyclone feed or Long distance pipeline duties and Other industries. Gravel pump mining cases for reference.