Construction of Vertical Sump Pump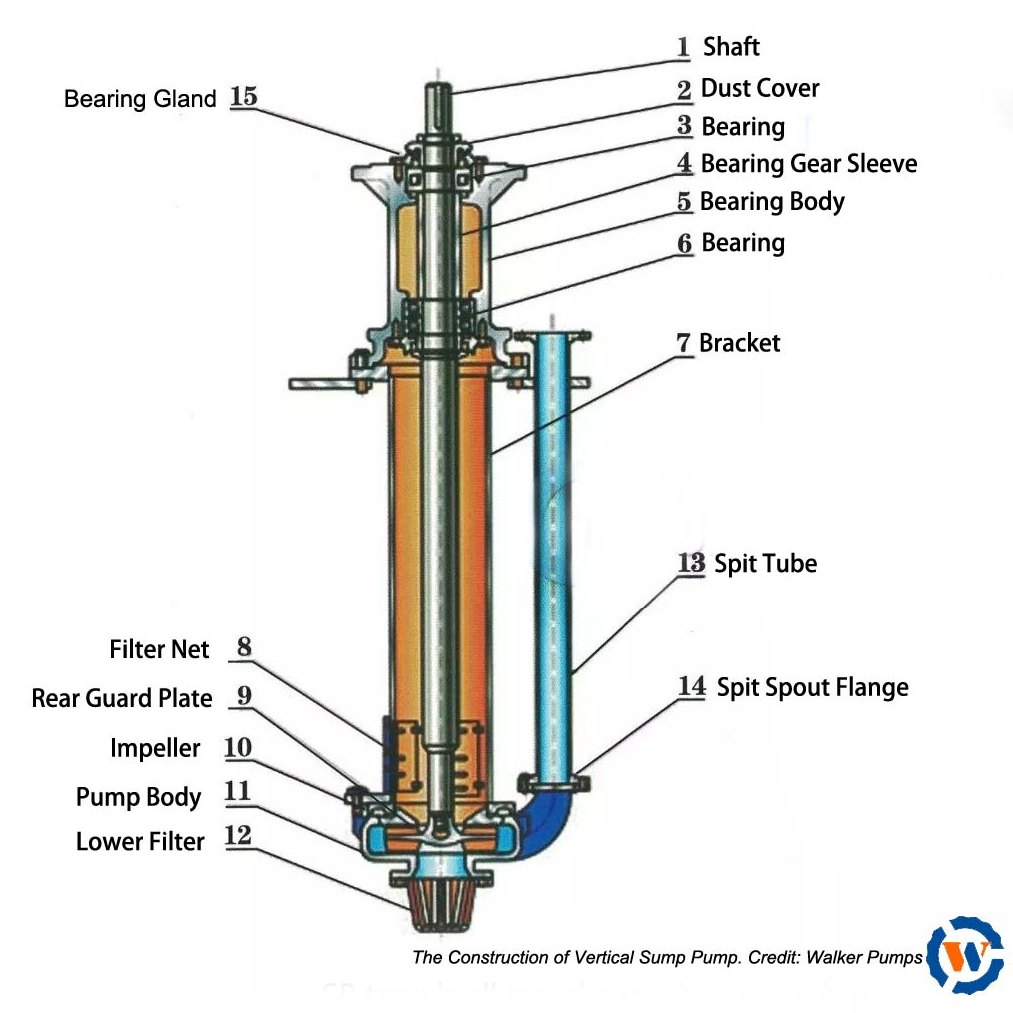 Main Part With Number In The Drawing
1. Shaft 2. Dust Cover 3. Bearing 4.Bearing Gear Sleeve 5. Bearing Body 6. Bearing 7. Bracket 8. Filter Net 9. Rear Guard Plate 10. Impeller 11. Pump Body 12. Lower Filter 13. Spit Tube 14. Split Spout Flange 15. Bearing Gland
VERTICAL SUMP PUMP SELECTION CHART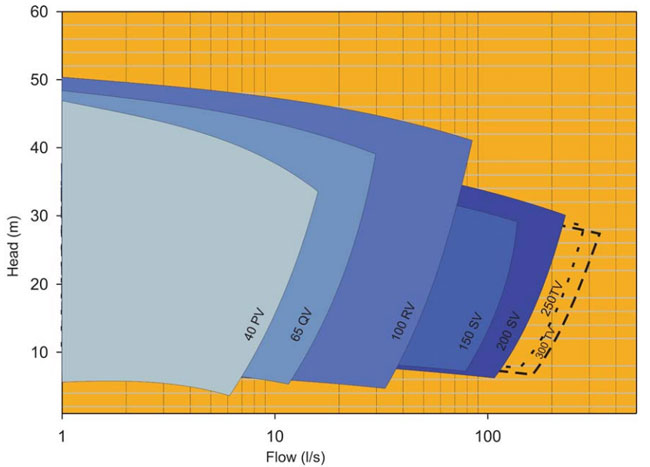 Note: Approximate Performance For Clear Water, To Be Used For Primary Selection Only.
√ Less wear, less corrosion
Wetted components are available in a wide range of alloys and elastomers, from which Weir Minerals selects the optimum combination of materials for maximum resistance to wear in virtually any industrial application, including those demanding both abrasion and corrosion resistance and where larger particles or high-density slurries are encountered.
• Abrasion-resistant A05 Ultrachrome® alloy.
• Abrasion/corrosion-resistant A49 Hyperchrome® alloy.
• Corrosion-resistant stainless steel.
• Natural and synthetic elastomers.
√ No submerged bearing failures
The robust cantilever shaft avoids the need for lower submerged bearings – which are often the source of premature bearing failure.
• Heavy-duty roller bearings, above mounting plate.
• No submerged bearings.
• Labyrinth/flinger bearing protection.
• Rigid, large diameter shaft.
√ No shaft sealing problems
The vertical cantilever design requires no shaft seal.
√ No priming required
The top and bottom inlet design are ideally suited for "snore" conditions.
√ Less risk of blocking
The screened inlets and large impeller passages reduce the risk of blockages.
√ Zero ancillary water costs
The vertical cantilever design with no gland or submerged bearings avoids the need for expensive gland or bearing flushing water.
The SP/SPR vertical centrifugal pump is available in a wide range of popular sizes to suit most pumping applications. The SP/SPR sump pumps are proving their reliability and efficiency worldwide in: minerals processing, coal preparation, chemical processing, effluent handling, sand and gravel and almost every other tank, pit or hole-in-the-ground slurry handling situation. The SP/SPR vertical centrifugal pump design with either hard metal (SP) or elastomer covered (SPR) components makes it ideal for abrasive and/or corrosive slurries, large particle sizes, high-density slurries, continuous or "snore" operation, heavy duties demanding cantilever shafts.